Brussels / Bruxelles / Brussel
Two weeks after classes "started" i.e. went on strike, the Parisian universities took a week-long winter break. (Livin' the high life!) So I took a 4-day trip to Belgium with three other Brown students. We stayed in a "hostel" in Brussels, which turned out to be really quite fabulous. The above three pictures sum up the best of Brussels: adorable architecture, free public transit (free only because it's the honor system and there are no enforcers, so no one ever pays), and waffles doused in chocolate.
The other intriguing thing about Belgium is the linguistic split between French and Flemish (Belgian Dutch). There's practically a line drawn across the middle of the country, which separates Flanders, where they speak mostly Flemish, and Wallonia, where they speak mostly French. In fact, the most useful language to have anywhere in Belgium is English, as everyone seems to speak it very well. In Brussels, whenever we tried speaking French to anybody, they picked up on our accents and responded in English. So much for practice...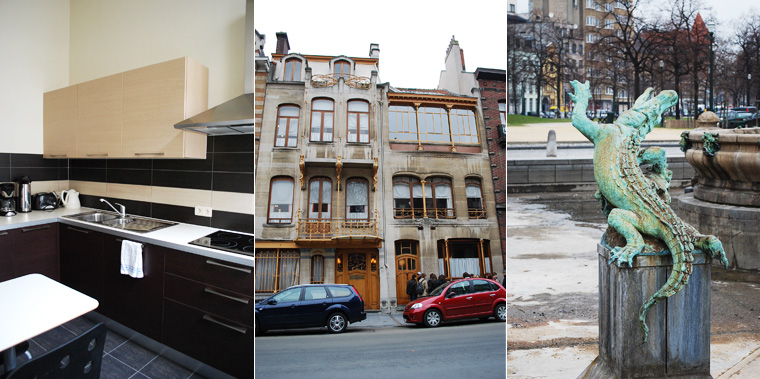 Above photographs, left to right: our apartment at Résidence Les Écrins, which we highly recommend. It was 30€ per night per person for a 4-person apartment and well worth it. The kitchen means we saved money on food, since we made ourselves pasta, sandwiches, and soup! The middle picture is Musée Horta, a house-turned-museum that showcases the work of Victor Horta, an Art Nouveau architect and interior designer. I wish I could have taken pictures inside, because it was so beautiful, but you can visit the Musée Horta's website to see some photos of my future home. Art Nouveau was big in Belgium. There are lots of signs with Art Nouveau lettering. The picture on the right is of an empty fountain at Place Saint-Catherine, which was near our apartment. There are beaucoup de statues and sculptures in Belgium. My favorites are the ones that are frozen in action, like this crocodile/lizard/thing.

The "Old England" building is home to the Musée des Instruments de Musique, a large collection of antique and unusual instruments. The instrument on the right is a glass harmonica. Benjamin Franklin invented a version of it, and I think it's the one pictured. Side note to Mitch Hedburg fans: that one joke about Coca-Cola in a glass harmonica now makes so much sense!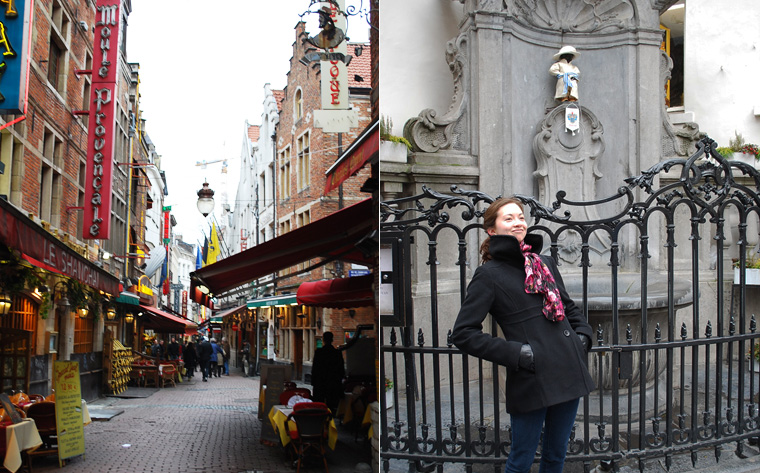 On the left, a busy street in downtown Brussels. On the right, me & Manneken Pis (little peeing boy), the most famous (and most ridiculous) statue in Belgium. He gets dressed up in dozens of costumes every year. This week's outfit celebrates Estonian pride.
Left: a street mural featuring Tintin, Belgium's favorite comic book hero. Tintin was everywhere in Belgium. On the right: my travel buddies, Sandra, Max, and Li Jun. We make such a good team! They're a lot of fun. Nothing like traveling & group problem-solving to bond people together.
Side note: see the crane in the background? The entire country seemed like it was under construction. At one point, we counted ten cranes surrounding us. It was kind of a bummer, since all the scaffolding sort of ruined the pretty buildings, and also the Magritte museum was closed for restoration. But on the other hand, they were getting stuff done in the off season, which meant that there weren't too many (other) tourists clogging the streets or (more importantly) the waffle stands!!
We also visited Antwerp and Bruges, which will be separate posts. Whew. Diagnosis of Brussels: well worth visiting!