Afternoon in the Bois de Boulogne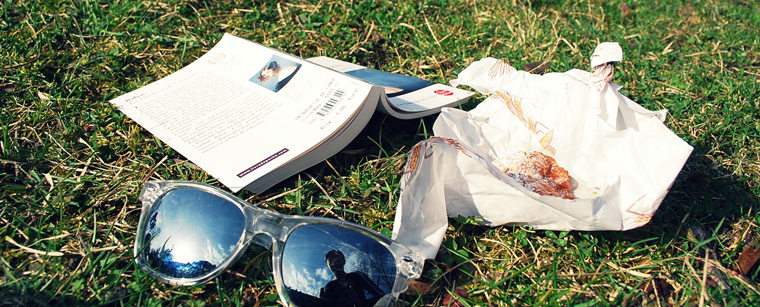 A delightful afternoon: a walk in the Bois, a croissant aux amands (almond croissant), a bit of reading, and best of all, sunshine.
The Bois de Boulogne is just outside Paris. Link to map: that big green bit in the middle. Just above the Bois is Neuilly, where I live. So the Bois? Is HUGE. We're talking the size of 2 or 3 Central Parks, at least. It's a very popular destination. People are the same all over (trivia! Which TV show did I just reference?): ahem, people are the same all over: we get sick of the city and need some fresh-squeezed oxygen from the trees.
There are lots of things to do in the Bois de Boulogne, like ride horses or play polo or go swimming or see the zoo or hunt pigeons or go swimming. As you can see from the photos above, it's sunny in Paris! And warm! I haven't worn my peacoat all week. It's supposed to get up to 60°F today. Spring is such a joyous time.
Life update: I spoke a ton of French yesterday. Via Craigslist, I arranged a meeting with a French woman, Stephanie, who wants to improve her English. So we met at Starbucks for a conversation exchange. She's super nice, and we alternated French and English for about an hour and a half. Then I met up with Deven to dine with his landlady and her husband, who are also super sympathiques. Again with the alternation between French and English, but it was mostly French this time. Even those few hours yesterday when I spoke French made me more confident in my speaking skills. I've been telling you guys that I'm embarrassed to speak my poor French, but my interlocutors yesterday encouraged me and told me I spoke it well.
I'm going to meet up with Stephanie again on Friday. Oh, man, it's 9:54. I must get dressed and go in 6 minutes for my histoire de l'art TD. You know when your muscles just refuse to move? That's me right now. Come on, legs. Feet? Please, I'm beggin you. Pinky toes, don't let me down now.