Everything old is new again: historical figures online!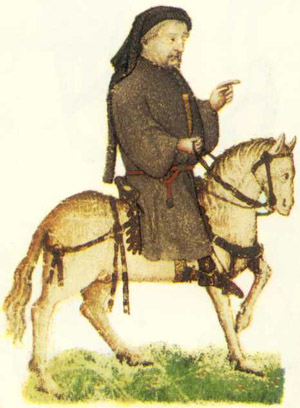 I've noticed a new trend: historical figures now have blogs and Twitter accounts! Some of them are totally made up, like Geoffrey Chaucer Hath a Blog, but are written in a hilarious true-to-form style. A sample:
Philippa hath been mightily y-freaked at me for the tyme that ich spent in Vegas. And alas, ich haue lerned that fals is the man who seyd that al thing that happeth in Vegas doth remayne in Vegas - rathir, thos thynges that hap in Vegas aren revisited seven-fold upon eny sely man who thinketh to kepe them undir cover.
Nice. We also have...
The Twitter feed of John Q. Adams, which is not made up at all — in fact, each tweet (I hate that grown adults have to use the word "tweet") is an entry from his rather terse diary, which details his journey to Russia and probably beyond. A sample:
8/6/1809: Thick fog. Scanty Wind - On George's Bank. Lat: 42-34. Read Massillon's Carême Sermons 2 & 3. Ladies &c. Sick.
And a third example I have found is We Choose the Moon: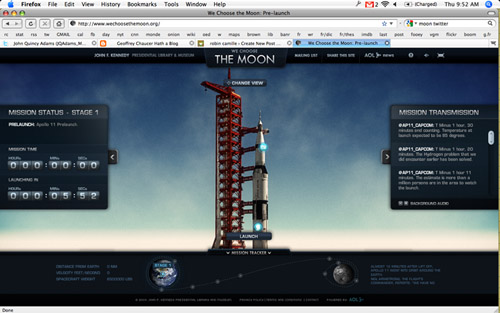 WeChooseTheMoon.org was dreamed up by the John F Kennedy Presidential Library & Museum to relive the journey to the moon in July 1969. Forty years later, we could follow it again (in real time!) via Twitter accounts (actual transmissions), video of JFK and liftoff, photos taken from space, and maps from Mission Control. Now that the real-time journey is over, the site's still up to explore. Here in 2009, space travel is something kind of taken for granted. Isn't there always some kind of launch from Cape Canaveral? But to watch the moon landing on your TV in 1969 must have been amazing... If, of course, you believe it happened.
Anybody else got a historical Twitter/blog feed to share? Email, baby.