College Hill and Fox Point, Providence, R.I., 1875 vs. 2011
I don't mean to be all Ms. Maps all of a sudden, but I keep finding cool things. This post is inspired by a Burrito Justice post (via W is for).
The David Rumsey Map Collection contains over 25,000 maps of all kinds, all available online. I poked around and found maps of my old 'hood in Providence in 1875. The landowners' names are all eerily familiar — Robert H. Ives, C.R. Goddard, W.S. Slater, Thomas Harkness. Funny how names stick around and take on new and different meanings.
Bam! Google Maps overlay: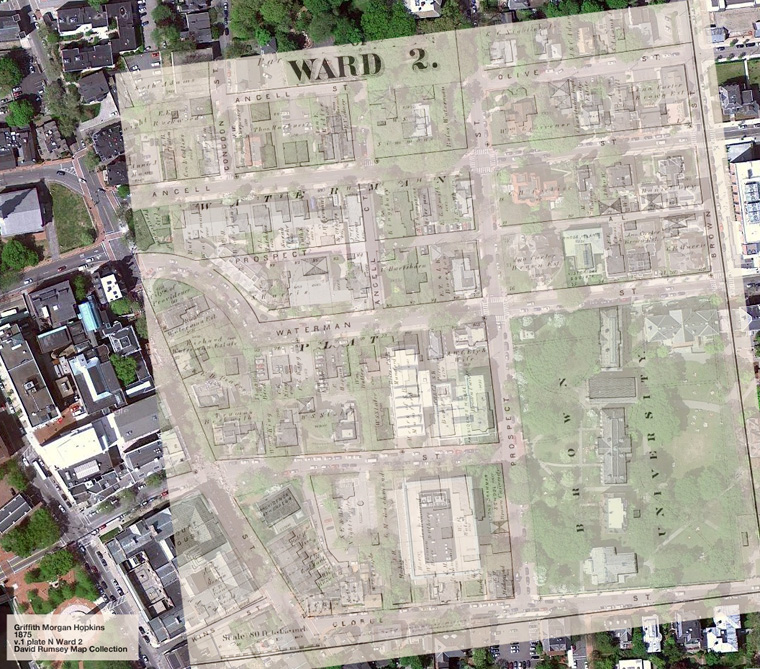 [Click through for hi-res.] Find the 1875 map here.
Things to note:
Fones Alley used to be Prospect Alley, and it used to connect Brown St. to the curve in Waterman, presumably until RISD buildings were built.
Where the Hay Library now stands, the Brown U. President's House used to stand.
The Rock Library took up about ten plots of land, including that of the Brown-owned Lyons Grammar School.
A City of Providence High School apparently used to be where the RISD "Beach" is now.
The Providence Athenaeum has remained untouched!
The 1875 map is pre-Faunce and pre-Slater Hall.
Angell St. used to go around a whole block, weirdly. To avoid to confusion, the smaller side street has been renamed Defoe Pl.
This part of the map is named the Waterman Plat. The map is also divided into wards. I didn't think the division by wards was still relevant, but apparently it is — each ward is represented by a city council member.
And here is a map of Fox Point:
[Click through for hi-res.] Find the 1875 map here.
You can see where the city of Providence filled in part of the Seekonk River. The 1875 map was drawn right before a slum clearance project, which might be why it shows both the shoreline and lots of unclaimed plots of land. Other, more minor things of note:
Part of the old Manning St. (the bit that's cut off at the top) has been renamed Seekonk St.
Bellevue St. has been renamed Cold Springs St.
Preston St. was extended to connect Governor and Ives.
The proposed street to extend Amy was not constructed.
A lot of the houses outlined in the Ives-to-Gano, George-to-Preston rectangle are still there.
This bit of land is the What Cheer Plat, according to the map! As it has been explained to me, "What cheer, netop?" is what the native Americans said to Roger Williams when he arrived by boat (Williams himself may have taught them what cheer?, sort of 17th century "Sup?", at an earlier point; netop meant "friend" in their language). There are lots of things named What Cheer in Providence.
Apparently Roger Williams first set foot on what would be Rhode Island on the west side of Gano St., between Power and Williams St. (obviously before the river was filled in).
That's all I have for now. Anything else of interest you see?