Coming soon: Lloyd Sealy Library Digital Collections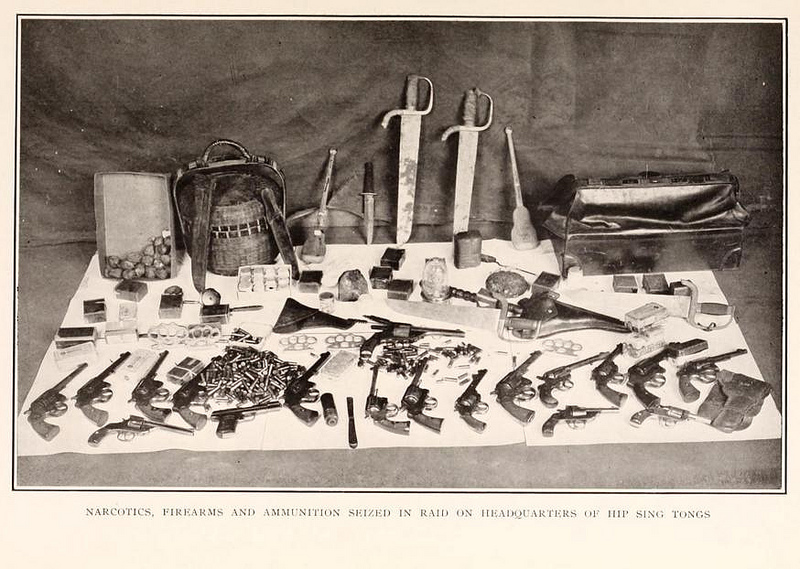 <
From the 1922 NYPD Annual Report: Narcotics, firearms, and ammunition seized (by NYPD) in raid on headquarters of Hip Sing Tongs (Chinese-American criminal organization).
A version of this article was published in Classified Information (fall 2013), Lloyd Sealy Library's biannual newsletter.
For the first time, the John Jay Library is consolidating its unique digital resources into one online, publicly-accessible collection. The Lloyd Sealy Library Digital Collections will launch in the spring 2014 semester as a premier repository for digitized criminal justice history materials. Researchers will find audio clips of Ed Koch speaking about subway crime, mug shots of notorious Murder, Inc. criminals, trial transcripts from 1920s New York murder cases, and much more in the coming collections
Research value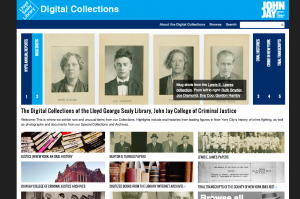 A sneak peek of our beta front page (likely to change quite a bit)
The Lloyd Sealy Library is well known for the strength of its criminal justice and social sciences collections. Under the leadership of Chief Librarian Larry Sullivan, formerly the Chief of the Rare Book and Special Collections Division at the Library of Congress, the Special Collections has grown particularly robust, providing valuable material for researchers of criminal justice history in New York City and around the world.
Since the turn of this century, the Library has put a great deal of effort into making these collections accessible online. The Crime in New York 1850-1950 project made available selected photographs from the Burton Turkus Papers and Lewis Lawes Papers, as well as hundreds of trial transcripts from the County of New York. The Library has also digitized nearly 100 rare books with the Internet Archive. In-house, we have made high-quality scans of items from the John Jay College Archives. For the first time, these digital materials will all be browsable, searchable, and downloadable in one place—in addition to brand new material.
Prof. Jeffrey Kroessler, our Circulation Librarian, is contributing his in-progress project, Justice in New York: An Oral History. With the generous support of John Jay supporter Jules Kroll, Prof. Kroessler— sometimes accompanied by Prof. Sullivan— has interviewed dozens of New York City's leading figures in criminal justice, including former mayor Ed Koch and former police commissioner Patrick V. Murphy. These interviews, rich as both historical reference and anecdote, are a vibrant resource for researchers and passersby alike. In the spring, the full interview transcripts, along with audio clips, will be available online for the first time in the Digital Collections.
More digital research materials are also on the way, the most timely of which are selections from the John Jay College Archives. As the College nears its 50th anniversary in 2014–15, the Library will digitize and catalog more materials from the College's history. The Archives measure 400 linear feet of records containing images of student life, news clippings, yearbooks, and more. Under the guidance of Interim Special Collections Librarian Ellen Sexton and Special Collections Librarian Ellen Belcher, and with support from other departments and offices at John Jay, a curated selection of materials from the Archives will be available in the Digital Collections.
Teaching with the Digital Collections
With more material available, the Digital Collections will be of high interest to researchers and fans of history—and also for teaching faculty. These rich online resources are an engaging and relevant gateway for students learning how to conduct research using primary sources. As the Library saw recently in the Murder Mystery Challenge, students can find great satisfaction diving into historical materials both gruesome (murder scene photographs) and enlightening (court case records). These materials give students the chance to grapple with the complexity and ambiguity of the historical record. Moreover, research today requires advanced digital literacy skills, and the Library strongly supports incorporating digital research in classroom assignments.
Technical details
The chosen content management system, CollectiveAccess, installed and customized in consultation with Openflows. CollectiveAccess provides robust search and browsing functionalities with a focus on thorough metadata. The Digital Collections will mirror the Special Collections, with each physical collection manifested as one digital collection. Many items will be freely downloadable, following the Library's commitment to public knowledge.
Stay tuned
The Library is working daily to improve the system and load in more material. We plan to launch next semester— keep an eye out for the launch announcement! (Librarians & archivists in NYC, I'll be presenting the Digital Collections in beta at METROcon in January 2014.)