Voyage à Chartres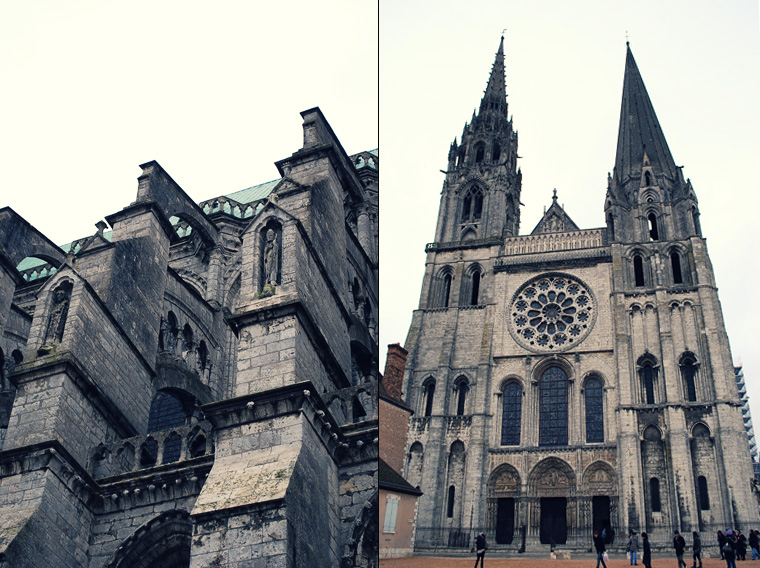 As promised, more church-themed pictures. This one is the Cathédrale Notre-Dame de Chartres, which is considered one of the most beautiful and well-preserved medieval cathedrals in all Europe. It dates back to the 12th through 16th centures and exhibits early and middle gothic architecture. In the above picture on the right, you can see the first tower built on the right side in 1140. It's more simple than the one on the left, built four centuries later in the early 1500s. I love the sublte asymmetry. Here's a detail of the kings and queens on the front façade (adore those braids!):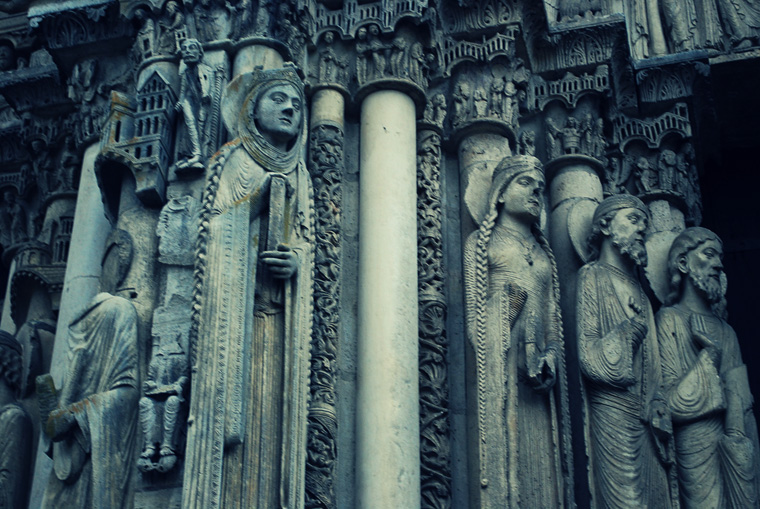 Chartres has been a destination for thousands of pèlerins (pilgrims) through the ages, even before this cathedral was built. Supposedly, the church at Chartres has possessed a holy relic, the Voile de Marie (tunic of Mary), since the 800s. They thought they'd lost it in the fire that ravaged the old wooden church, but the priests found it after the ruins cooled — quel miracle! It's on the left:
As you can see on the right, there's also a labyrinth to prayerfully walk through. It evidently takes an hour to complete, but we wouldn't know, since there were a bunch of chairs to impede us. I meant to ask if the cathedral ever clears them so people can walk it; I totally would! Another photocollage:
The cathédrale is also famous for its vitraux (singular: vitrail), or stained glass. Like the outside architecture, the various stained glass windows were completed during different periods of history. Some of them were sponsored by corporations like the barrel-makers, boulangers, or cobblers of the city. The sponsored vitraux mainly portray Bible stories, but in the corners of those windows, there are little panels depicting the donors at work, as a tribute to their contribution (vitraux cost A LOT). So these windows offer us a glimpse of the Middle Ages, too.
The blue of the stained glass is also notable. Apparently it was a difficult color to make, but there's one window in particular that showcases a different blue than the hues above. I couldn't get a good picture of it (it was Mary's cloak btw), but it was incredibly beautiful, a bit lighter than the rest of the blues.
More pictures of Chartres (and less history of art and architecture) tomorrow!