La Conciergerie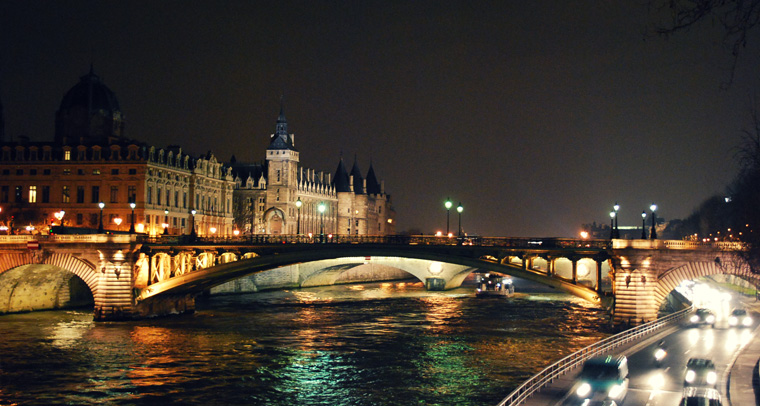 I was meeting some friends for dinner at Le Trumilou, a nice restaurant on Quai de l'Hôtel de Ville, when I passed this lovely view. The building is La Conciergerie on Île de la Cité. Guidebook: "Originally the residence of the governor of the king's palace — hence the name — it became a prison in 1391 (when the concierge became chief gaoler*) and remained so until 1914." The bridge is Pont au Change, and the cars are speeding along the something de Gaulle, although that doesn't narrow it down too much, does it? (Everything is something de Gaulle.)
I will post tomorrow (or sometime) about Robin's Day of Mortification, which was today. Too tired after a day of classes/ running around/ classes/ mortification/ racing home/ dinner/ drinks/ racing home. In the meantime, enjoy the Seine! Love those reflections...
---
* NERD OUT: Here's what the OED has to say about the spelling of gaol:
Of the two types [jail & gaol], the Norman Fr. and ME. gaiole, gaole, came down to the 17th c. as gaile, and still remains as a written form in the archaic spelling gaol (chiefly due to statutory and official tradition); but this is obsolete in the spoken language, where the surviving word is jail, repr. Old Parisian Fr. and ME. jaiole, jaile. Hence though both forms gaol, jail, are still written, only the latter is spoken. In U.S. jail is the official spelling.
I've been pronouncing "gaol" and "gay-ole" this whole time, or at least since reading The Ballad of Reading Gaol. miss u, oscar. love u, english language. (Sorry.)