Antwerp / Antwerpen / Anvers
The day after we arrived in Brussels, we took a day trip to Antwerp! This gorgeous specimen of an A greeted us upon disembarking the train. It was a cold, cloudy day. We immediately bought some fries, got our bearings, and headed to our first item on the list...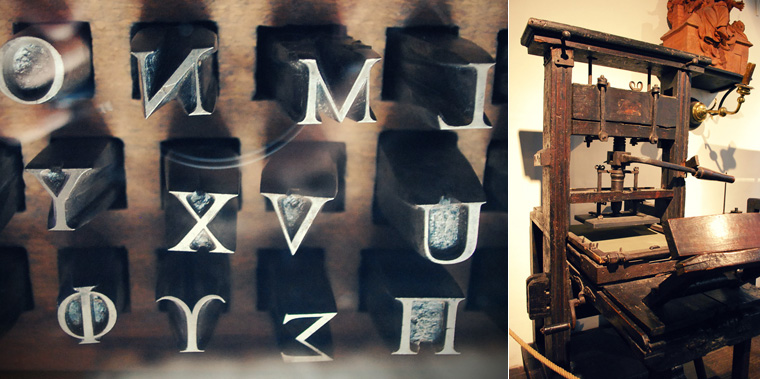 The Museum Plantin-Moretus, which is a printing history museum. I bet you know whose idea this was. Just to set the record straight, no trickery was involved — in fact, my travel buddies really enjoyed the museum! They, however, were not drooling by the end of the visit, as I was. Above: Garamond letter dies and a printing press from around 1600.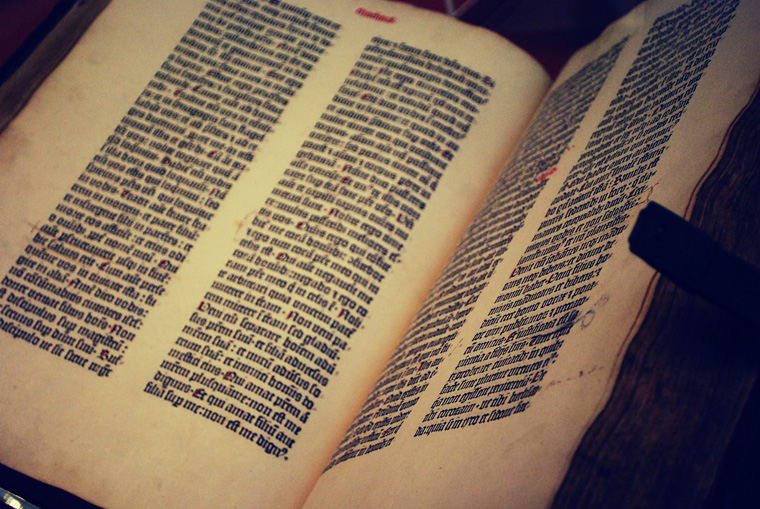 There were thousands of old old old books in Messieurs Plantin & Moretus's collection, including a 36-line Gutenberg Bible, above. "36-line" does not, in fact, allude to a Bible only 36 lines long! If you'll count (I didn't, but I'm assuming), there are but 36 lines top-to-bottom on the page. Future visitors to the museum may be puzzled by a forehead/nose grease mark and fingerprints left on the glass by an overly excited patron. Some people have no self-control.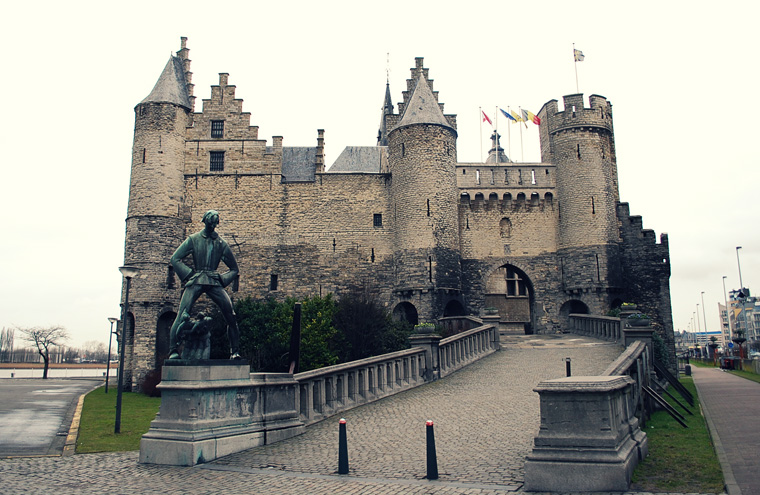 This is Het Steen, a riverfront castle. We didn't go inside, but check out that creepster statue out in front. Two tiny men gazing at the crotch of a giant? Um... Belgians can be a little funny sometimes. In any case, the castle was lovely to look at, although we soon became chilled and needed to warm up our blood, so...

Just for the record, it wasn't my idea to start taking jumping pictures! It was Li Jun's. I just played along and offered my camera's self-timer. Passersby were not amused.
Diagnosis on Antwerp: best city of the bunch! And the older part of town is surprisingly small. If you're headed to Belgium anytime soon, go to Antwerp (or Anvers in French).
I'll try to add a post on Bruges next. I've been incredibly lazy this entire weekend (ie watching Sleeping Beauty on YouTube while eating pine nuts one by one). It is now time to go to Deven's, where there is (A) no internet and (B) beef chili awaiting me.