What we did / in Madrid
After our classes had (mostly) ended this month, Deven and I embarked on an adventure in Western Europe. This is the first installation of a planned trilogy detailing said adventure!
We spent 3 days in Madrid, Spain. It was a lovely city, literally in the very center of the country, and surprisingly newer than I thought it would be — the buildings, at least. I was also surprised at how much Spanish I remembered. Guess those tons of worksheets I filled out throughout high school helped (yo/tu/él/ella/nosotros/ellos/ellas), although the Madrid lisp ("grathias") was totally bizarre. Above, random and delightful street art photographed as we searched out a "taquería mexicana auténtica" which was a'ight but nothing compared to Juanita's. That's no fault of their own, though, because Juanita's Carnitas is tops.
The above is the Palacio de Cristal, built in 1887 for an exposition highlighting the delights of colonialism. It was directly inspired by that one building in London the name of which I forget. Anyway, inside this one, there was an art exhibition going on that day. Some contemporary artist had suspended stuffed panda bears from the ceiling and was playing strange music inside. By the time we got there, though, it was closed, but since it was all glass, we could see inside. One lonely guard was slumped on his chair in the middle of the panda bears. I hope he was paid well.
Speaking of art exhibitions, I have no photographic evidence, but there are some truly great museums in Madrid. We looked at art and stroked our chins for at least an hour every day we were there — twice in the Museo del Prado, which houses Goya's famous Black Paintings, and once in the Museo de la Reina Sofia, the modern and contemporary art museum, which is home to Picasso's Guernica. It's very large in real life, at least the parts you can see over the heads of the millions of people also looking at it and making I-took-a-class-in-art-history-in-college style mini-critiques to their friends (okay we did that too). The Museo also has two rooms full of Picasso's sketches and studies for the painting; it was interesting to see how he worked. Guernica looks, like most of Picasso's paintings, like a mishmash of crazytown, but he was very methodic and planned everything just so. I guess it worked, since it is his most famous work.
We spent some relaxing time in the spacious El Parque del Buen Retiro. For this photo, I asked Deven to please imitate some of the interesting sculptures, like the one you see in the background. I thougt it might make a droll picture but evidently he wasn't in the mood. "Do I have tooo," he complained. "Yes," I insisted. "Fine. I'm a lamppost."
Funny story about the Parque. On our last day in Madrid, Deven and I decided to pack a picnic lunch and go to "that grassy area near the palace where we saw all those couples making out." I thought he meant the Jardines del Palacio Real, right next to the royal palace, where we had indeed seen a lot of people sucking face. So I said, "Oh, it's so close, we'll walk there. I'll be in charge of the map. [20 mins later] Here we are! Where do you want to sit?" Deven: "Ummm... I meant the Parque del Buen Retiro. By the Crystal Palace. Where we saw other couples making out." On the other side of the city.
Lessons learned: be specific when naming city landmarks, and also, there is a lot of PDA in Spain.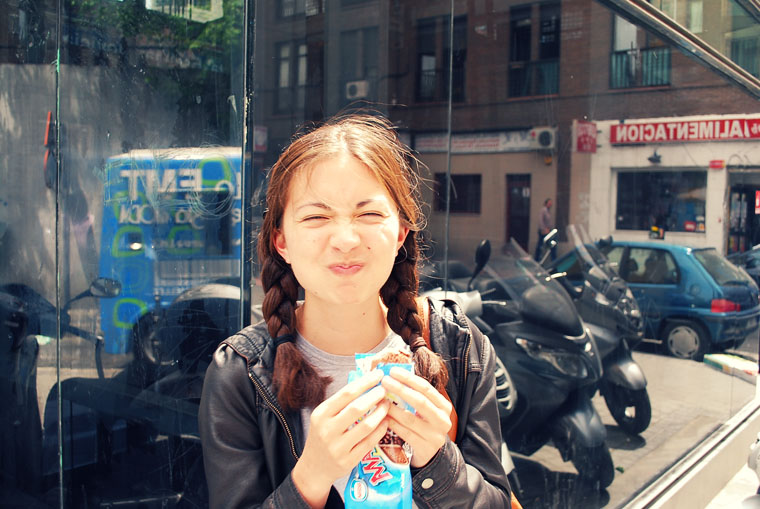 Deven snapped a photo of me delving into this much-needed ice cream bar. Then he snapped my reaction (above). Then he snapped my reaction to his snapping my reaction (hand-on-hip indignance). In any case, this was some great ice cream.
I'm standing in front of an elevator that takes you down to the Madrid metro system, which is well-designed and easy to use, and also extremely clean. It's also very very deep underground, so one must take up to 4 escalators to get to the tracks. An interesting Madrid vs Paris observation: in Paris, you must stand to the right on the escalator, lest you get yelled at and subsequently bowled over by hoards of people in a rush to get somewhere, most likely a café to relax and slowly sip an espresso. In Madrid, however, people seem to view the escalator as a substitude for walking, and everyone stands patiently without moving from their step... I like the Madrid approach to escalators much more. (The Mezzanine, anybody?)
One of my BFFies from home, the lovely Christine, studied in Madrid this semester. In fact she was one of the primary reasons I wanted to go to Spain! We caught up with her on the tail end of her quarter and she took us to J&J's Books & Coffee, which has a boatload of English-language books in its basement. An embarrassing percentage of them are of the Dan Brown / Danielle Steel variety, but we found the literature section and that's where I bought a collection of Haruki Murakami short stories.
(Sidenote, re: a comment left by Christine on this picture on Facebook: the dark area under her arm is not the bushy underarm hair of the popular but mostly untrue stereotype of European women, but rather an unfortunately placed shadow!)
At the end of our visit, we visited La Chocolateria San Gines, where we had the famous Spanish chocolate y churros. Oh my God, you guys, the churros were fried to perfection and the chocolate was thicker than blood. It was so rich that I couldn't finish it all, which, if you know my predilection for rich and sugar-laden foods (see little pooch of belly in background), is saying something. It was certainly a gastronomically pleasant way to end our time in the capital of Spain.
Up next: Lisbon, Portugal.